Ahoy me hearties! Thinking of taking your kids on a cruise for the first time? Do it! They're bound to love it.
We recently went on a 9 night Christmas cruise around some of the Pacific Islands and on a whole it was a wonderful experience.
We were at sea for 2 days before any Island visits which was good as it gave us time to acquaint ourselves with the ship and workout where everything was situated onboard. 14 Levels to explore and find cafes, restaurants, exercise gym, beauty day spa, pool, waterslides, water park, outdoor hot spas and activities like flying fox, walking the plank, Titanic experience, night shows and outside movies on the big screen (just to name a few!)
One point that didn't work well for our family, was the fact there was only 1 pool and it was not ideal for young kids. There was no shallow end…just a deep plunge pool and with the sway of the sea, most days it became one big wave pool. Good fun for older kids, but for the little ones it ain't fun.
Our first onshore visit was to the Isle of Pines and it certainly didn't disappoint. We entered the Island by the ship's tenders and this was an exciting experience for the kids. The crystal-clear water was gorgeous and we found a little bay (called Kanumera Bay) to snorkel, swim and play on the beach. Snorkelling was fantastic here, just off from the beach we found colourful coral and bright tropical fish, including a sea snake!! We spent hours on the beach, drinking coconut milk and eating coconuts and trying other local foods like chocolate crepes & banana donuts! The Isle of Pines also has a rich history as it was once a French penal colony.
Our next onshore visit was to the capital of New Caledonia, Noumea. Noumea can be described as a peaceful port city with colourful European architectures, reflecting its colonial history. The city sits on a large peninsula, surrounded by picturesque bays and I was surprised at how mountainous it was. We caught a local bus to the Bay of Lemons, or as the locals call it "Baie de Citrons". The bus ride can only be described as a roller-coaster ride! We all hung on for dear life, and of course both of the boys had the time of their lives hanging on as the bus driver sped up and down the hills and around corners at fast pace. Thankful to arrive in one piece, Baie de Citrons was well worth visiting and experiencing the exquisite still clear waters.
Our next country was Vanuatu with a visit to Mystery Island and then to the capital Port Vila. Mystery Island is a designated marine sanction with a ban on fishing. Snorkelling was fantastic here both off the Island and out by the reef. The whole Island is approx. one square kilometre in area and to walk around the whole Island takes about 45 minutes. We also found a gorgeous little tea house which was really nice to stop and have a cup of tea looking out to such a delightful view!
Being the capital, Port Vila is the main hub of Vanuatu and is well known for its lively market stalls selling produce and local handicrafts. The National Museum of Vanuatu is well worth a visit and if you have time, take a drive to the Mele Cascades, which is a peaceful waterfall with rock pools in a rainforest.
While in Port Vila we also did a glass bottom boat ride and snorkelling in the harbour. The kids loved the experience of the boat ride and snorkelling, however compared to other places we snorkelled on the trip, Port Vila Harbour snorkelling was average. Visibility was fair to middling and I would not give a spectacular rating for coral or tropical fish. In saying this though, we saw plenty of clown fish and the kids were super excited to see Nemo again!
Christmas Day and Boxing Day was spent at sea en route back to Brisbane and the cruise ship sure knew how to help us celebrate Christmas. Santa entered the ship via flying fox and all the children gathered to receive a gift each. The ship was beautifully decorated with Christmas trees and decorations and in some parts a winter wonderland was created with fake snow falling.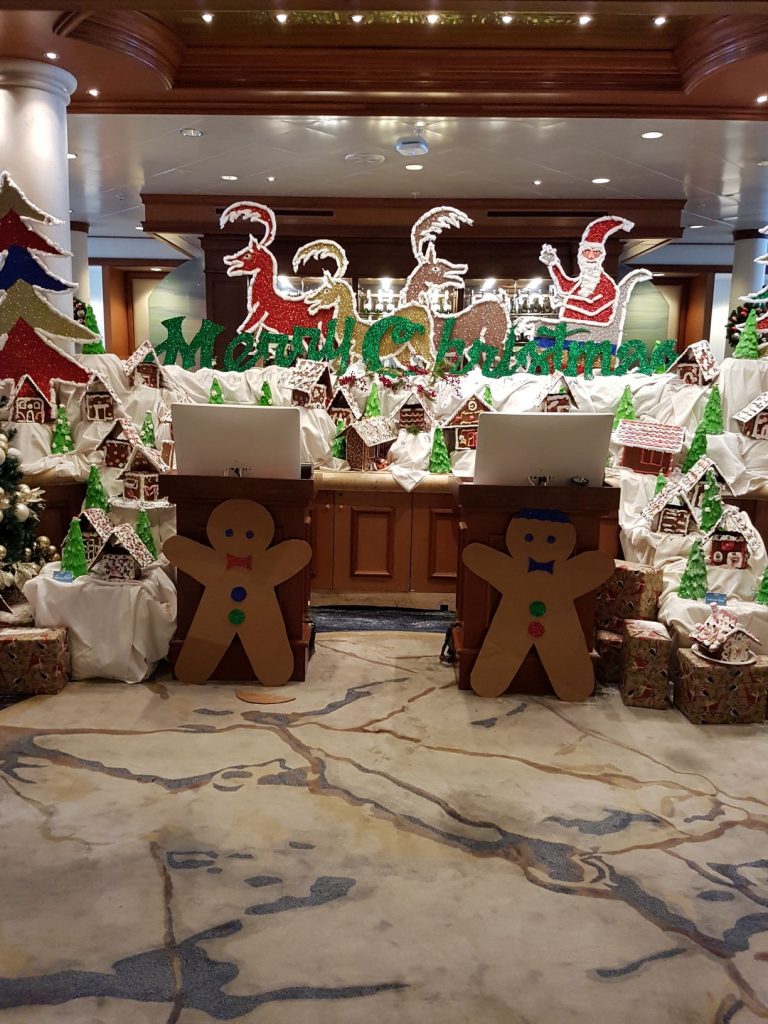 I'm almost at the end of the blog and I have not yet paid tribute to the KIDS CLUB! A flipping good time was had by both our kids in Turtle Cove (ages 2-5) and Shark Shack (ages 6-9). Both centres had a range of toys, games and fun activities (which were educational too), plenty of arts & craft, theme nights, talent shows & concerts. I have one word to describe kids club…..HALLELUJAH!
As I sign off, I hope you had a Merry Christmas with your loved ones and I would like to wish you all a safe and happy 2019.
Keep on cruisin' and have a happy day out.
Megan Carige
Author
Happydayout.com.au