First day of Winter folks, and nothing better than sitting in front of the fire to write this blog.
We recently holidayed in Melbourne and it was a wonderful time away. If you're intending to visit Melbourne with your kids for a holiday, then you've made a great decision. To help you with a few ideas, here's what we got up to…
We landed in Melbourne to a cool 12C, and we used the first few days to walk around and explore Southbank. Right on the Yarra River, Southbank has a lively and electric atmosphere, with so many restaurants and cafes to choose from, and has the added advantage of free entertainment with street performers everywhere.
Still in Southbank, we found ourselves at Federation Square and spent hours exploring this magnificent building and all that it has to offer. It sure is the home of cultural attractions, but there is also an array of restaurants, bars and cafes to choose from too.
The National Gallery of Victoria (NGV), which is in Fed Square, was one gallery that was child friendly! Yes, there was the walking around looking at art and constant reminders "not to touch" but up on level 2 there was a kid's disco area where children of all ages could let off steam and run around! Enjoying music and colourful flashing lights, all of the children looked and sounded like they were having a blast.
We found the price of admission, food and drink at the NGV very reasonable too.
We also found a great park right beside Fed Square. Nothing like giving kids a run around in a park to re-set the clock before entering yet another art gallery or museum!
If you're not keen to take your kids into one of the galleries, ART PLAY may be a better option for you. Art Play is situated right next door to Fed Square and it is a place where children (babies – 12-year old's) can explore their creativity side. Art Play have workshops on offer (long & short) as well as art displays (which are all designed for kids)……there was not one "DO NOT TOUCH" sign on any of the displays.
Bookings are required for most workshops, however there are free drop in events available. With more than 300 workshops, events and performances every year there is plenty to choose from.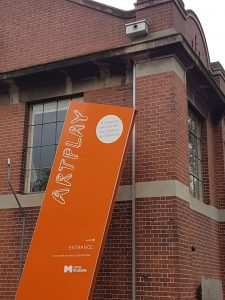 The other delightful activity we stumbled across, was ice skating in the Winter Village. The Winter Village is a euro-style winter wonderland at Fed Square and is open from May – August each year. The village offers igloo dining with plenty of food and drink options and of course ICE SKATING! Areas are accessible for all, and pram friendly too!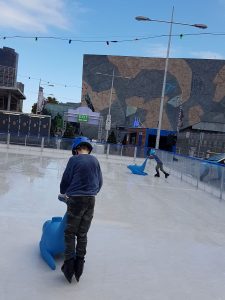 Still in the vicinity of Southbank, we took the kids up to the top of the Eureka Tower. The tower is 297.3 metres tall, and it is the highest public viewing platform in the Southern Hemisphere. The express lift takes you to the 88th floor in 38 seconds.
The Tower is named after the Eureka Stockade, which of course was a rebellion during the Victorian gold rush back in the 1800's. The top of the building has a gold-plated panel, and as the story goes, when you reach the top you have found your gold.
For those that want that extra thrill, you can have an 'edge' experience where you hop into a glass cube and you're projected out from the 88th floor! YIKES….and there you are suspended over Melbourne to enjoy the view!
If you would rather keep your feet on ground zero, an outing to the Melbourne Zoo can be recommended. It really was a journey through a world of wildlife right in the heart of Melbourne. Pricing was very reasonable and they allow you to take your own food, which really helps out with the Budget. Prams are on offer to hire and all the pathways around the Zoo were very pram friendly.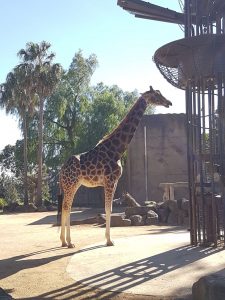 Without going into detail, here are a few more tips on great things to do in Melbourne with kids:
Aquarium
Tram Ride (city circle is free)
Luna Park (St Kilda)
Yarra River Cruise
The Melbourne Museum and Imax Theatre
Scienceworks (Science Museum in Spotswood)
Aquatic Centre at Albert Park
Visit the MCG and look around the AFL Museum
If you have time and want to experience a regional town, Geelong is a short train ride (approx. 1 hour) from Melbourne.
Supa Tramp in Geelong kept everyone happy and busy on the wet days, by offering indoor trampoline jumping, ninja circuit and rock climbing.
In fine weather a walk along the Waterfront is great with plenty of space for the kids to run around, and the waterfront has several parks to choose from. Running around the bollards seemed to be a fun activity.
We didn't go, but I hear Fairy Park is a magical place to visit. A short drive from Geelong, Fairy Park is designed for kids to discover the fairy-tale stories.
A quick tip (and depending on your time restraints), you may also like to take in The Great Ocean Road. It stretches 243 klms from Torquay to Allansford. Whilst you can do the drive in 1 day, with many accommodation choices along the way, you can take your time and do the drive over a couple of days.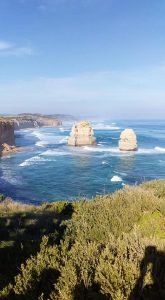 We are out of time, so that's it for today's blog. Enjoy Melbourne (and their great coffee) and here's to happy days out with kids!
Take care,
Megan xo
Happydayout.com.au