On today's blog I feel like having a chit chat about Spring. After a long cold winter, I'm celebrating some warmer weather and enjoying Spring!
One thing that has been noticeable for me moving back to live in Toowoomba is feeling each and every season (something I didn't notice as much living in Brisbane). I love watching the changing seasons, it certainly gives me connectivity to nature.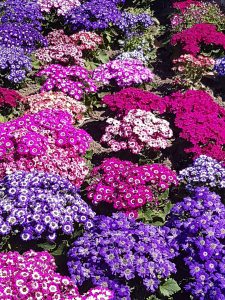 I love nothing more than getting out into the garden during spring & livening it up with some colourful annuals. This year we also made a birdbath. All you need is to find a rough-textured dish (that birds' claws can grip), place in a shady spot in the garden, fill with water and watch the birds splash. The kids loved doing this activity.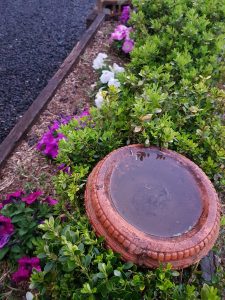 We also move our dinner's outside into the garden. The BBQ becomes my outdoor frypan and salads become my best friend.
Crab & Green Bean Salad is a vibrant dish that is one of our spring favourites. It is a mix of lovely fresh ingredients with a zestful dressing featuring coconut milk and lime. The kids love being involved in picking fresh herbs out of the garden to be used in the meal. If you are a lover of coriander & mint then this salad is for you, give it ago……
RECIPE
450g green beans (trimmed)
Salt
1 red capsicum (deseeded and thinly sliced)
225g cooked crabmeat
4 spring onions (sliced)
1 tbsp chopped coriander (plus extra leaves to garnish)
1 tbsp chopped mint
60g peanut butter
50ml coconut milk
Juice and finely grated zest of 1 lime
2 tbsp fish sauce
1 small red chilli (deseeded & finely chopped)
35g chopped roasted peanuts
Cook the green beans in boiling salted water for about 5 minutes, until just tender. Drain & rinse under cool water.
Place beans, capsicum, crabmeat, spring onions, coriander & mint in a large bowl.
Make the dressing in another bowl: mix together peanut butter, coconut milk, lime juice and zest, fish sauce & chilli until well blended.
Toss the salad in the dressing and spoon onto serving plates. Divide the peanuts between the plates and garnish with coriander leaves.
As we live in the Garden City I must make mention of our Carnival of Flowers which is held every September. It is a 10-day event of flowers, food & fun and runs from 21st – 30th September this year. Check out tcof.com.au for information on what is happening, particularly child friendly activities on offer & destinations to visit during Carnival.
Just a point too, out of all the destinations mentioned in the Happy Day Out in Toowoomba book, four are our favourites during Carnival. Queens Park, Picnic Point, Laurel Bank Park & Spring Bluff are all full of colour and great for kids. If you have time, instead of driving to Spring Bluff you can catch the steam train and it is well worth the experience!
Enjoy Spring & have a happy day,
Megan Carige
Author
Happydayout.com.au